Whisky Judaica Chanukah Raffle
After meeting at Tamdhu Distillery earlier this year, Jack Kay of Whisky Barrel Judaica decided to donate a special 15-year old Tamdhu Speyside Single Malt to the three beneficiary charities.  From there the prizes kept coming and now there are over ten prizes up for grabs, with thanks to Tamdhu Distillery, Whisky Barrel Judaica and Chai Cancer Care.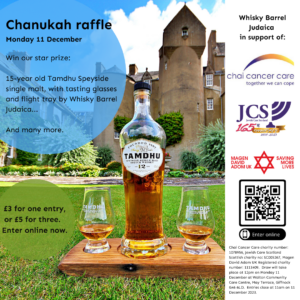 Three charities across the UK will benefit from a Chanukah whisky raffle this year.  Chai Cancer Care, Jewish Care Scotland and Magen David Adom UK are working jointly with Whisky Barrel Judaica to raise funds and give away prizes in time for Chanukah.
Jack Kay of Whisky Barrel Judaica said about the raffle, "It is my privilege and pleasure to make things exclusively for the benefit of charity and it is heartwarming to see three charities collaborating in this raffle. I hope this can lead to further collaborations. I am very grateful to the Scotch Whisky Association and the Tamdhu, Glengoyne , Glenfiddich and Balvenie distilleries for all their support and encouragement in my fundraising."
The winner will be drawn on Monday the 11 December at The Walton Community Care Centre, May Terrace, Giffnock. To buy tickets click here.